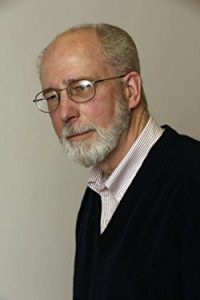 Photo by M. Bebabib
I think that when we are young we write because we believe we have something to say. I'm older now, and I'm not so sure of that.
I think I write now in the hope that I have something to hear.
Robert McKean's current projects include:
The Catalog of Crooked Thoughts, a novel that explores profound loss and recovery
Someone To Watch Over Me, a historical novel set during the Little Steel Strikes of late 1930s
Shutdown, a novel that deals with the cataclysmic Rust-Belt Depression of the 1980s
A Wilderness of Monkeys, a novel that takes a contemporary spin on The Merchant of Venice
I'll Be Here for You: Twelve Lives, a collection of interlocking stories that span the decades in Ganaego from 1958 to the present
Novel
The Catalog of Crooked Thoughts, Longleaf Press Prize Winner (Methodist University Press, Winter 2017). Also named a Finalist in the 2018 Eric Hoffer Awards.
Stories
"Mrs. Kattlove's Clerk," Finalist, Adelaide Literary Award Anthology, December 2018

"Placido Lombardi's Funeral," Kestrel, Issue 40, Winter 2018
"Cradle Hymn," The Rumble Fish Quarterly, Summer 2018

https://rumblefishblog.files.wordpress.com/2018/09/rfq_summer_2018.pdf
"Invisible Weaving," BoomerLit Magazine, Winter 2018
"No Talent for Sleep," Adelaide Literary Award Anthology, Finalist, Summer 2017
"Red Box, Red Box," Kindred, Issue 12, Summer 2017
"A Wilderness of Monkeys," Adelaide Magazine, Year II, Number 7, Volume I, June 2017
Interview with Rob: http://adelaidemagazine.org/i_robertmckean.html

"However Innocently, However Unwittingly," The Flexible Persona, Spring 2017, Vol. 02, No. 01
"The House on Pienza Road," Border Crossing (Volume 6)

"Semitone Summer," 34th Parallel, Issue 35

"That's All That Matters," Armchair/Shotgun, Issue 5
"Mr. Mason's Camera," Crack the Spine, Issue 132 (also published in the journal's annual print anthology)
"Tody Was a Seven," 34th Parallel, Issue 27
"Spare Parts & Bloody Bones" Front Range Review, Spring 2014
"Rags," The Bacon Review, April 2014
"Velia Creaming Her Legs," The MacGuffin, Vol. 29, No. 3
"Landscape Painting" Ruminate, Issue 25
"Calabash," the Dublin Quarterly, No. 15
"Ralphie's Clarinet," The Kenyon Review, Vol. 26, No. 1
"My American Gasoline Dreams, first letter," Chicago Review, Vol. 25, No. 1
"The Bicycle Shop," King James Review, Vol. 1, No. 2
"You, Stanley, and Your Stockcar in a Dying Town," Chicago Review, Vol. 23, No. 4 and Vol. 24, No. 1
Awards & Recognition
"Cradle Hymn," The Rumble Fish Quarterly, 2019 Pushcart Prize Nomination
The Catalog of Crooked Thoughts, Methodist University Press, Finalist for 2018 Eric Hoffer Award
"However Innocently, However Unwittingly," The Flexible Persona, 2017 Pushcart Prize Nomination
"The House on Pienza Road," Border Crossing, 2017 Pushcart Prize and Best of the Net Nominations
"No Talent for Sleep," Adelaide Literary Award Anthology, Finalist, Summer 2017; and "Mrs. Kattlove's Clerk," Finalist, September 2018
A Wilderness of Monkeys, Finalist, Dana Awards, 2016
Story collection (under different titles): Finalist, Tartt First Fiction Award (Livingston Press), 2018; Finalist, Serena McDonald Kennedy Award (Snake-Nation Press), 2015; Honorable Mention, Leapfrog Press Fiction Contest, 2011; Finalist, Flannery O'Connor Short Story Award, 2010; Finalist, Mary McCarthy Prize for Short Fiction (administered by Sarabande Press), 2004 and Semi-Finalist, 2005

That Which We Ought Not to Have Done (now entitled: Shutdown), First Honorable Mention, Dana Awards, 2006; semi-finalist, the Peter Taylor Prize for the Novel, 2005; ; semi-finalist, Three Oaks Prize in fiction at Story Line Press, 2000; Finalist, Heekin Group Foundation James Fellowship for the Novel in Progress, 1999
The Catalog of Crooked Thoughts, Finalist, Dana Awards, 2010

"Out of Harm's Way" nominated by Margot Livesey to be her workshop's contribution to be considered for the Sewanee Writers' Conference submission to the Best New American Voices competition, July 2001

Massachusetts Arts Council Grant for Fiction, 2000

"Calabash, Calabash!" second place, White Eagle Coffee Store Press Long Fiction contest, April 1999
Conference Attendance
Bread Loaf Writers' Conference, studied with Richard Bausch and Jay Parini
Bread Loaf Writers' Conference, studied with Andrea Barrett
Bread Loaf Writers' Conference, studied with Charles Baxter
Sewanee Writers' Conference, studied with Margot Livesey and Barry Hannah
Education
University of Chicago, M.A., English Language and Literature
Pennsylvania State University, B.A., English Language and Literature