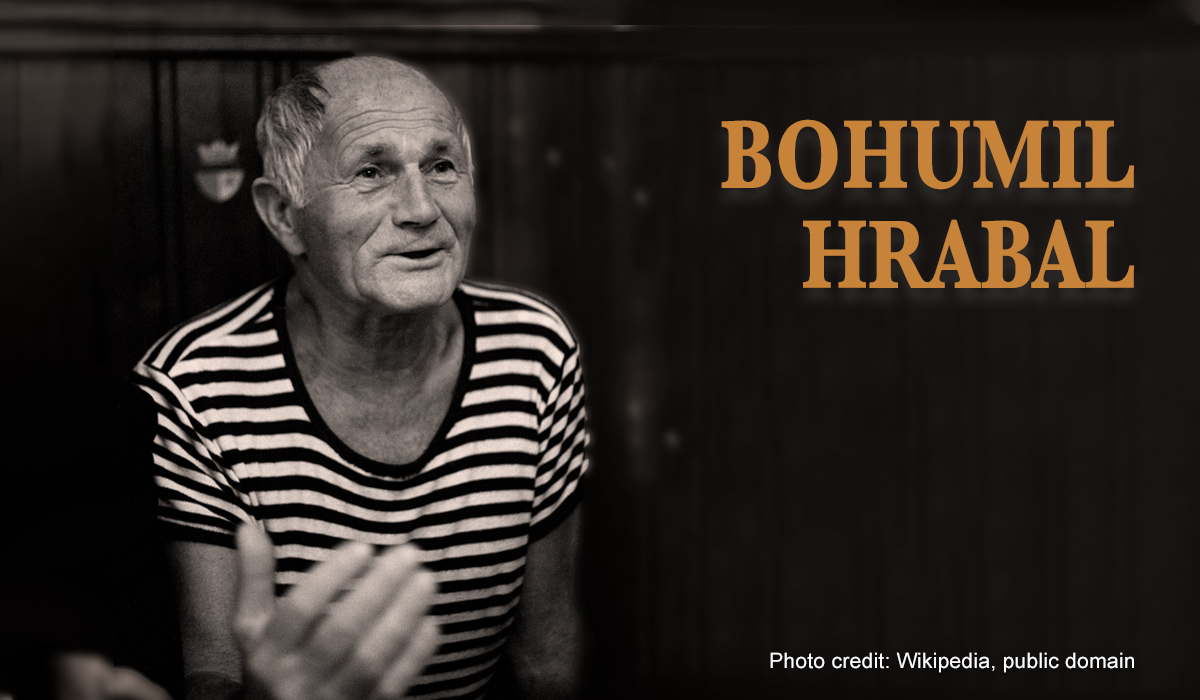 Czechoslovakian writer Bohumil Hrabal comes out of a long tradition of wicked satirists.
Think of Rabelais, Swift, Voltaire, and, in our era, Günter Grass (
The Tin Drum
), Raymond Coover (
The Public Burning
), and Terry Southern (
The Magic Christian
). Or, even more contemporary,
Saturday Night Live.
Satire is caricature, parody, the sending up of the deserving to be pilloried in the public square and who are, most of the time, us, simply we ourselves.
Hrabal (1914-1997) is probably better known for his novels, Closely Observed Trains and I Served the King of England, both of which became the basis of acclaimed films. But Too Loud a Solitude (Harcourt Brace Jovanovich, 1976, translated by Michael Henry Heim) is a slender comic masterpiece and occupies a well-deserved spot on PowellsBooks Blog, "25 Books to Read Before You Die, World Edition, 2016."
Haňt'a bales wastepaper and has for thirty-five years.* He works in a mice-ridden basement and comes up frequently for air and for beer, lots of beer. Refuse paper arrives daily and is pushed down a hole in the courtyard that empties directly into Haňt'a's basement. Sometimes he's dumped blood-soaked boxes, cartons, and wrapping paper from slaughterhouses. Those come accompanied by millions of flesh flies that form a moving, squirming, biting woolly wrap about him.
But into his compactor the paper must go, and Haňt'a labors nonstop—except for beer breaks—to satisfy his never-satisfied boss. But despite such a horrible job performed in such hellish conditions, Haňt'a is not only a waste-baler, no, Haňt'a is an artist of wastepaper baling, or, to use our currently most overworked phrase, he is a curator of wastepaper bales. He's constantly on the lookout for books that people have discarded, classic literature and philosophical texts, which he saves and carries home until his small apartment groans beneath the weight of the books he's accumulated. But into each bale he creates he also always inserts one of those classic texts opened to a page he's thought carefully about, and for the final wrappers of his bales he uses prints of the great painters. Haňt'a's bales are indeed lovingly crafted works of art in a fallen, pedestrian, philistinian world.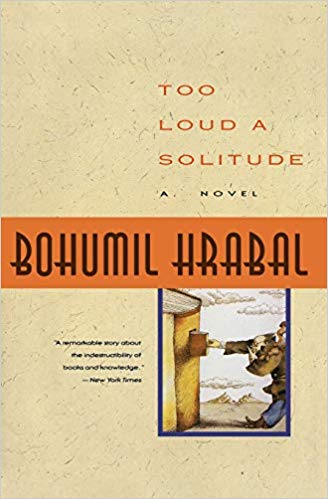 Haňt'a is a dreamer and a philosopher, but he knows—as we all know—that the times are changing, and when he visits an enormous and terrifyingly efficient modern waste-baling establishment manned by youthful workers in sanitary uniforms and gloves who couldn't care less about what human treasures they might be pulping, he knows that that is the future of wastepaper baling. The youthful workers callously rip off the covers of the books and toss them on the conveyor belt that carries them to a powerful compactor. And in the last scene of the book, easily foreseen by readers, Haňt'a climbs in his own old-fashioned compactor and bales himself into oblivion.
Oh, I'm leaving a lot out, so much satire and hilarious humor, the sex life of a wastepaper baler, for instance, but you can get the gist of this masterpiece, I hope. Hrabal was a controversial figure in communistic Czechoslovakia, first, labeled a dissident, and, when he despaired of his books ever being published and gave into the regime some, tagged as a collaborator. You can't win for losing. Something Haňt'a would understand perfectly.
My blogging advice: Too Loud a Solitude is too good to miss.