Rob's short story collection I'll Be Here for You: Diary of a Town has been awarded first prize in Livingston Press's Tartts First Fiction Award Competition and will be published in 2020. Details to come.
"I can never tell where your stories are going until I get to the end. You live in an amazing and tangled world.
Thanks for introducing it to us, your readers."
– Steve Vincent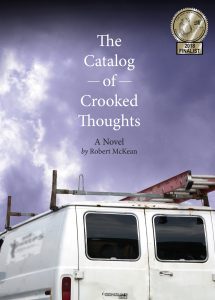 Robert McKean's critically acclaimed novel, The Catalog of Crooked Thoughts – winner of the 2016 Longleaf Press Novel Award and Finalist in the 2018 Eric Hoffer Awards  – is available on Amazon.
Robert McKean grew up in a company town in Western Pennsylvania complete with a company store and a steelworks that stretched nine miles along the Ohio River. When you walked down the town's single main commercial avenue you might hear a dozen languages. At night the skies burned from the Bessemers, gas jets flamed up, and black sugar speckled the porches so thickly that they had to be swept every morning. Paydays the markets overflowed with shoppers and, if you needed shoes, that's when you got them, payday shoes.
McKean, recipient of a Massachusetts Arts Council grant, writes fiction set in and around these hardscrabble Western PA towns. Beneath the ethnic, racial, and generational stew of lives and passions depicted in his stories and novels lies the story of Ganaego itself, its rise and fall as a protagonist in our heartland's late-Twentieth Century existential drama, the making of America's Rust Belt.
McKean's work has been featured in numerous publications, including:
The Kenyon Review
Armchair/Shotgun
The Chicago Review
The Dublin Quarterly
Kestrel
Crack the Spine
The 34th Parallel
His work has been nominated for a Best of the Net Award and three times for Pushcart Prizes.