Robert McKean
Creator of Ganego Valley, PA
Robert McKean
Creator of Ganego Valley, PA
The Latest from Robert McKean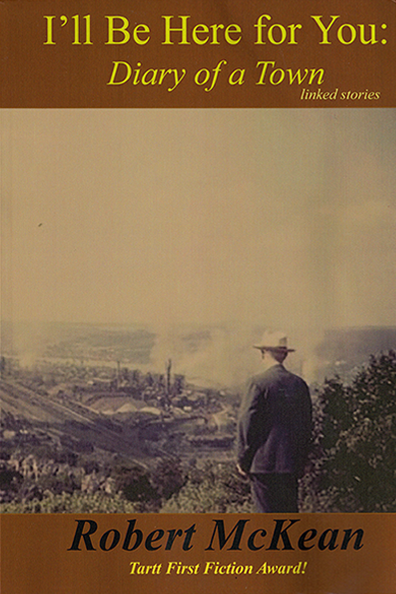 I'll Be Here for You
: Diary of Town
Tartt First Fiction Award Winner
Played out against the events of the larger world—the Vietnam, Iraq, and Afghanistan wars, as well as America's cultural strife—the twelve interconnected stories in I'll Be Here for You: Diary of a Town span the decades in Ganaego from 1971-2015. In this hardscrabble town we meet people like Tody Wolding, director of Ganaego's ragtag thespian troupe and a crossdresser in a conservative community. We meet Max Fischman who contends with a break-in at his jewelry store and the depression that has settled over his once-vivacious wife after their son was killed in Vietnam. We meet Audrey Bachelor who struggles to keep her family and marriage intact as the rumors of the impending shutdown loom over their lives. We meet Julie Namar who borrows enough cash to keep her flagging dance studio going—only to spontaneously give the money to a gifted pupil who is suffering home abuse and who must take flight, as Julie herself once did. And we meet the librarian who seems to have dreamed all the wrong dreams, met all the wrong men, placed her bets on all the wrong horses, Darlene Paczkowski who laments the death of a boy, the child of squatters, who came to her story hours and never spoke. 
Beneath this ethnic, racial, and generational stew of lives and passions lies the story of Ganaego itself, its rise and fall as a protagonist in America's existential drama.
I read the stories in I'll Be Here for You with interest and delight. Rob McKean has evinced this hardscrabble town in Western Pennsylvania in a way that reminded me of Sherwood Anderson's Winesburg, Ohio. The affecting themes of these stories, embodied in images and vivid dialogue, multiply and ricochet in original ways. A rich and beautifully wrought – and place-centered – world shimmers into being in McKean's fiction.
Jay Parini
Author of The Last Station and The Damascus Road
I'll Be Here for You, a short-story collection by prize-winning author Robert McKean, provides a moving look at the fragile and often tragic lives of men and women who live and work in Ganaego, PA, a small, decrepit, rust-belt town that has itself already suffered though decades of economic decline. Like William Faulkner's Yoknapatawpha County, McKean's setting is central to the narrative, and McKean's vision of those who live there is not a sentimental one. This is literature at its best—textured, psychologically accurate writing infused with wisdom and compassion.
Michael Colonnese
Author of Double Feature
In this linked short story collection, the inhabitants of a Pennsylvania steel town grapple with aging and the shifting rhythms of their community… McKean's prose is measured yet probing, revealing the hidden theatricality of even the collection's minor characters… But nearly every story will succeed at striking something in readers' hearts.
A masterful assemblage of tales that illuminate life in a flagging American town.
Kirkus Review
Click Here to Read Entire Review
"I'll Be Here for You: Diary of a Town" is not a rewriting of Sherwood Anderson's volume of connected stories, "Winesburg, Ohio," but the similarities are a good place to begin. "Winesburg," one of the first documents of modern literature in America, was comprised of 22 stories, with a recurring central character, George Willard…
But the stories have power. The characters are real and their struggles to retain some small amount of grace under enormous pressure stick with you.
Don Noble
Tuscaloosa News
Click Here to Read Entire Review
Welcome!
Thank you for visiting my website.
I created this site as a way to collect and organize the various strands of my Ganaego Valley Project and to weave them into a more accessible tapestry –- more accessible to my readers and to me. My hopes are that the site offers you a convenient portal into my world.
The central organizing principle of the site is indeed the Ganaego Valley, a destination in my imagination that on many days is more real than the desk I am sitting at.
If you were to locate Ganaego on a map, you would find its peaked roofs and sky-smudging smokestacks among the knobby hills of Western Pennsylvania, steps from the Ohio River.
Ganaego traces its descent from this passage:
"Ganaego (a Seneca prophet) had visions in which the Great Spirit instructed the Indians not to send their children to school and foretold disaster for those who did. Among other things he predicted that a great snake would go down the Allegheny River and make the water unfit to drink."
(From the Journals, 1810-1828, of Joseph Elkinton, as quoted by Antony Wallace.)
I hope you enjoy the site. I would love to hear from you.
Warm regards,
Rob McKean